Which Crypto Should Investors Put Their Focus on After Bitcoin Halving?
The cyclical nature of the crypto market provides investors with an opportunity to strategize their earnings. Many experts believe that Bitcoin (BTC) halvings have a significant impact on price growth in the crypto industry. The next Bitcoin halving event is scheduled for the spring of 2024. In this article, we will explore which cryptocurrencies have the potential to bring in profits for investors after the Bitcoin halving.
Why is the Crypto Market Growing?
The digital asset market operates in cycles composed of growth phases, corrections, and lateral movements that last approximately four years. This phenomenon occurs because every 210,000 blocks are mined, or every four years, halving events take place in the Bitcoin (BTC) network, reducing block rewards. The market has already experienced three halvings: in 2012, 2016, and 2020. After each halving, Bitcoin has experienced substantial growth and reached new all-time high (ATH) values approximately a year and a half later. The next halving is expected to occur in the spring of 2024. As Bitcoin is the flagship cryptocurrency, the movements of other cryptocurrencies tend to follow its trajectory. Therefore, when Bitcoin reaches new ATH values, many other coins also set new price maximums.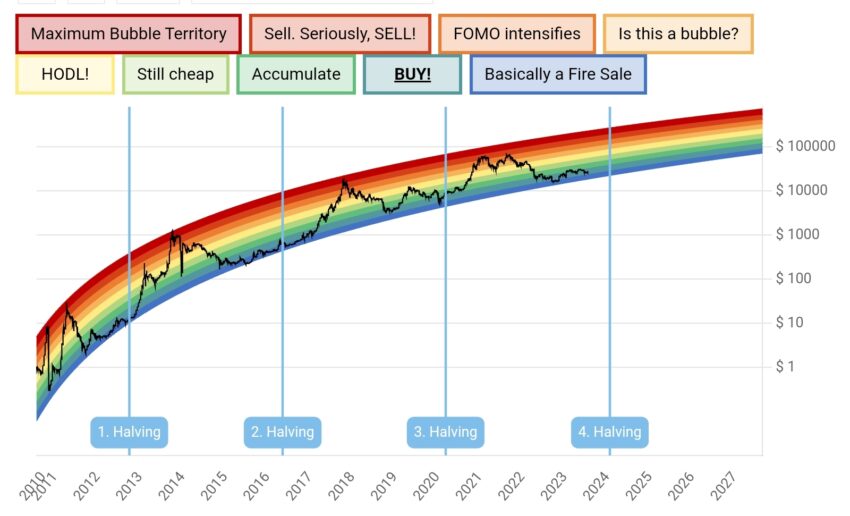 After the ATH, Bitcoin enters a correction phase followed by lateral movement, until a new decrease in mining speed triggers the start of another cycle. With the 2024 Bitcoin halving approaching, it is anticipated that BTC will respond with another ATH, leading other cryptocurrencies to follow suit.
Which Cryptocurrency Should Investors Buy After Bitcoin Halving?
Experts from StormGain, Bitget, and 1ex Trading Board share their insights on the best investment options after the Bitcoin halving.
According to Dmitry Noskov, a cryptocurrency expert from StormGain, investors should consider buying Bitcoin as their priority. Among altcoins, Noskov highlights XRP. He believes that positive news regarding the resolution of the conflict between Ripple, the issuer of XRP, and the US Securities and Exchange Commission (SEC) can drive the growth of its price.
Gracie Chen, the managing director of Bitget, also suggests that investors focus on Bitcoin. Chen also emphasizes the potential of Layer 2 (L2) blockchain solution tokens. These tokens are built on top of main blockchains and offer cheaper and faster transactions.
Anton Nozdravchev, co-founder of 1ex Trading Board, agrees with purchasing top coins like Bitcoin and Ethereum (ETH).
In summary, experts interviewed by BeInCrypto recommend that investors prioritize Bitcoin, followed by popular altcoins such as Ethereum and XRP. Additionally, attention should be given to Layer 2 solution tokens, as the increasing demand for this technology may drive up their prices.
However, it is crucial for investors to conduct thorough research and evaluate the risks associated with the highly volatile cryptocurrency markets before making any investment decisions.
Disclaimer
In adherence to the Trust Project guidelines, BeInCrypto is committed to unbiased, transparent reporting. This news article aims to provide accurate, timely information. However, readers are advised to verify facts independently and consult with a professional before making any decisions based on this content.
Editor Notes
For the latest news and updates in the world of crypto, visit Uber Crypto News. Stay informed and make informed investment decisions.