Visa Embraces Crypto Partnerships and Signals a Shift in Strategy
Visa, the leading payments giant, has announced its partnership with the crypto exchange WhiteBIT, marking its return to the crypto sector after a six-month hiatus. This Memorandum of Understanding (MoU) signifies Visa's renewed interest and willingness to collaborate with crypto firms.
After facing setbacks earlier this year due to market instability and high-profile failures in the crypto industry, Visa and other major players like Mastercard had put their plans to partner with crypto firms on hold. However, Visa's recent technology announcements and this new partnership indicate a change in direction.
Visa's Crypto Vision Has Been on Ice for Six Months
In February, Visa and Mastercard decided to delay their involvement in the crypto market as they acknowledged the challenges and risks associated with embracing cryptocurrencies for mainstream payments. A Visa spokesperson stated:
"Recent high-profile failures in the crypto sector are an important reminder that we have a long way to go before crypto becomes a part of mainstream payments and financial services."
Visa and Mastercard have long been pioneers in blockchain innovation, particularly in traditional finance (TradFi) and banking. Their absence in the crypto sector was noticeable, and their return is significant for the industry.
WhiteBIT and Visa Partner to Push Mainstream Crypto Adoption
Visa's partnership with WhiteBIT holds immense potential for crypto firms, primarily through access to major banks. As the largest card network globally, Visa processed approximately 242 billion transactions last year alone.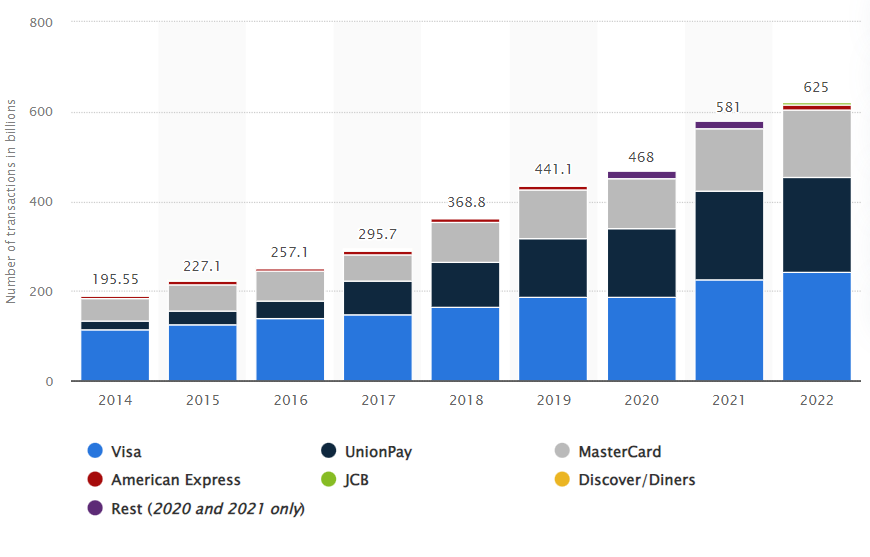 In their press release regarding the MoU, WhiteBIT expressed their intent to utilize Visa's extensive network of bank and fintech partners. They stated:
"The cooperation aims to support WhiteBIT in building sustainable relations with banks and fintech companies that are Visa partners and interested in crypto-related products implementation."
Yevgen Lisnyak, Senior Director, Head of Strategic Partnerships, Fintech and Ventures at Visa CISSEE, emphasized that the company recognizes the "great potential in cryptocurrency-related products." He further stated that this MoU will facilitate joint efforts with banks to launch card programs and integrate cryptocurrencies into the mainstream financial sector.
Visa Explores Card-Based Gas Fee Payments
Visa's commitment to mainstreaming cryptocurrency is further evident through their exploration of card-based Ethereum gas fee payments. Recently, the company successfully tested a method using the ERC-4337 standard and a paymaster contract to execute Ethereum transactions without users needing to possess ETH directly.
The Ethereum Goerli testnet was used for this experiment, and now, Visa is actively exploring how this concept can be employed to reduce friction for Ethereum users in the future.
Disclaimer
In adherence to the Trust Project guidelines, BeInCrypto is committed to unbiased, transparent reporting. This news article aims to provide accurate, timely information. However, readers are advised to verify facts independently and consult with a professional before making any decisions based on this content.
Editor Notes: The Growing Acceptance of Crypto in Traditional Financial Systems
The partnership between Visa and WhiteBIT reflects a significant shift in the attitude of traditional financial institutions towards cryptocurrencies. Visa's decision to enter the crypto space and actively explore new opportunities indicates the growing acceptance of digital assets in mainstream finance.
As the world of finance becomes increasingly interconnected with the crypto industry, it is crucial for institutions like Visa to collaborate with crypto firms and generate innovative solutions. This partnership marks a step towards bridging the gap between traditional financial systems and the decentralized nature of cryptocurrencies.
If you're interested in staying updated on the latest news and trends in the crypto world, be sure to visit Uber Crypto News. They provide comprehensive coverage and analysis of the crypto market, making it a valuable resource for both beginners and experienced investors.