The Ripple Rollercoaster: Gains Erased, Resistance Prevails
Ripple's recent journey has been tumultuous, as gains made following a favorable federal court ruling in July were ultimately erased. Now, all eyes are on a crucial support area, with a value of $0.3.
When news broke that the XRP token, used by Ripple, is not considered a security when sold to the general public, crypto investors rejoiced. The price of Ripple's token shot up from around $0.4 to nearly $1, leaving no room for bearish traders to operate.
However, the crypto markets can often mislead and surprise traders.
Unbeknownst to many, the Security and Exchange Commission (SEC) plans to appeal the federal court ruling in Ripple's case. Investors wasted no time reacting, resulting in a sell-off that brought the XRP/USD rate back to its pre-July levels.
Recently, Ripple completed a full retracement of its price movement since the announcement in July.
An analysis of Ripple's technical chart can support both a bullish and a bearish case. The key takeaway, however, is that Ripple is now back in a range, currently unable to break above or below significant resistance and support levels.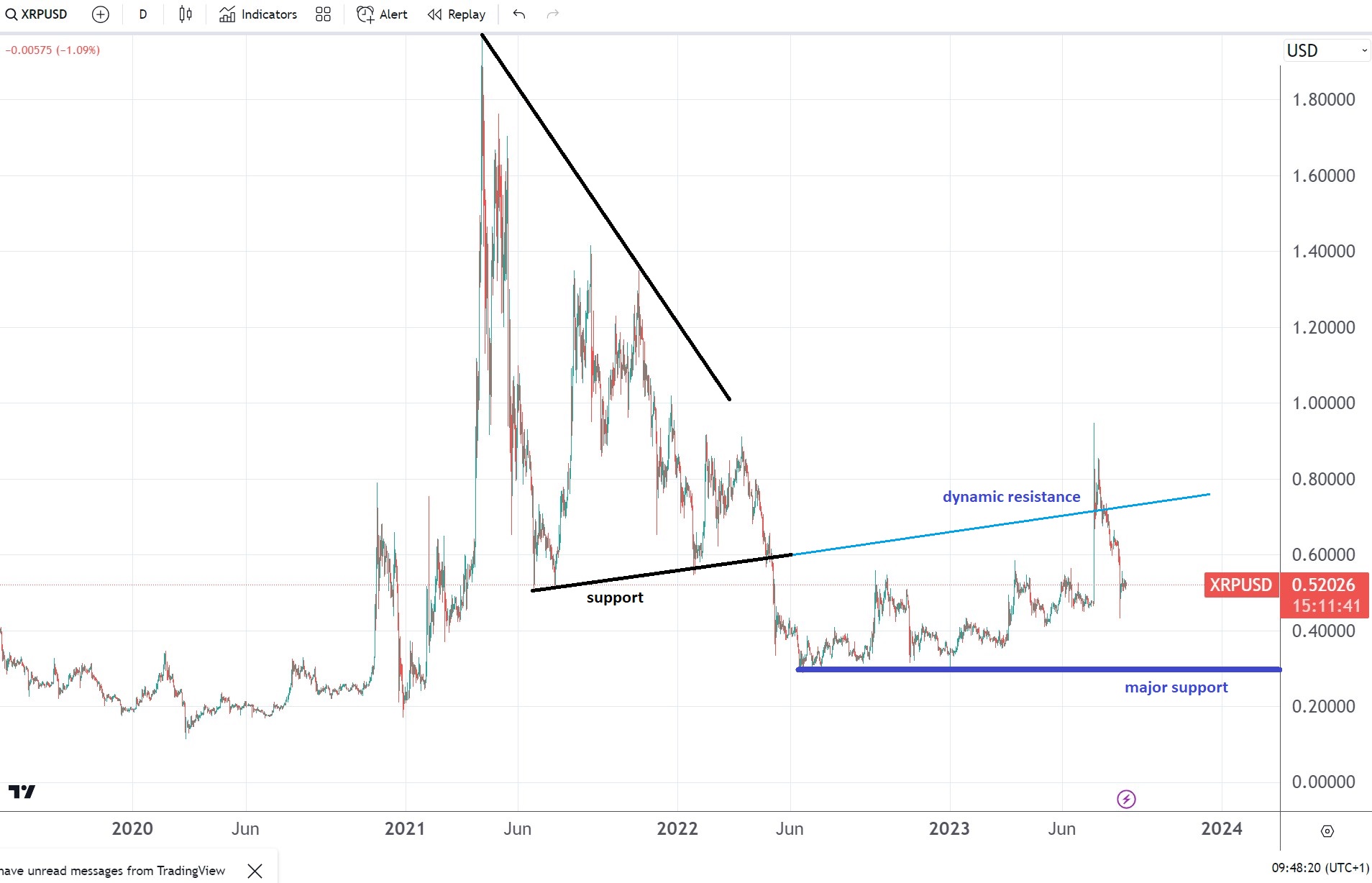 Ripple chart by TradingView
An Optimistic Outlook for Ripple
In 2021, Ripple's price surged above $1.8 as investors sought exposure to the cryptocurrency market during the COVID-19 pandemic. However, sellers quickly emerged, leading to the formation of a bearish triangle pattern.
This bearish consolidation phase persisted until 2022, when Ripple's price broke lower. The breach occurred as the lower edge of the triangle, previously acting as support, was broken. Since then, Ripple's price has been on a downward trajectory.
Yet, the recent resistance faced by Ripple was previously a support level. This dynamic resistance has prevented bulls from making significant gains following the July news.
Despite the rejection, there are still reasons to be optimistic about Ripple's future. The $0.3 support area played a crucial role in 2022, and the market has shown a steady pattern of higher highs and higher lows since then. As long as Ripple remains above this support level, there is a possibility of a recovery and an attempt to break and sustain itself above the dynamic resistance once again.
A Pessimistic View of Ripple
On the other hand, the recent sell-off has alarmed many traders. Optimism has waned, resulting in capital outflows. If Ripple's price drops below $0.4, it could trigger a momentum for further downside, potentially hitting a major support area at $0.3. A break below this level could spell disaster for the bulls who were once confident in Ripple's prospects.