Raydium Price Prediction: Unstoppable Momentum and Memeinator Presale Surge
RAY token surges 17% in 24 hours, as technical indicators turn bullish and its resistance level of $0.240 comes into sight. In addition to this, the Memeinator presale has exceeded $500,000 in less than 48 hours, making significant progress in reshaping the meme coin landscape. The crypto community is buzzing with excitement over Raydium's momentum and Memeinator's success.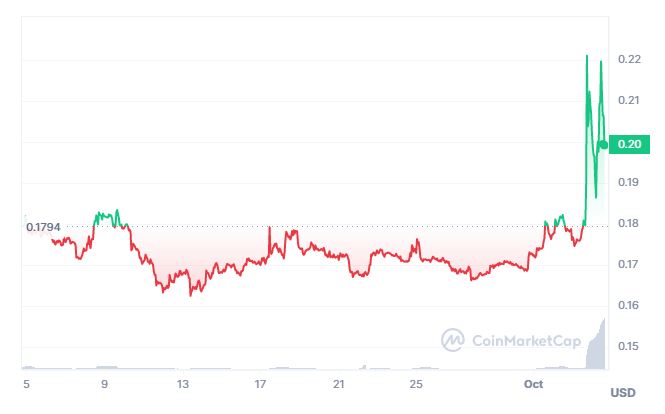 Raydium's native utility token, RAY, has witnessed a remarkable surge in price, experiencing a 17% increase within 24 hours. Currently trading at around $0.2019, RAY has gained significant attention and optimism among crypto investors.
Why is the Price of Raydium Rising?
The recent surge in RAY's price can be attributed to several factors. Firstly, there is a building bullish momentum in the cryptocurrency market. This positive sentiment has been boosted by Ripple Labs' recent win against the US SEC. The Ripple Labs victory is seen as a catalyst for the crypto market, countering the US authorities' attempt to label cryptocurrencies as securities.
Raydium Price Prediction
Analysts have identified a symmetrical triangle pattern formation, indicating the potential for a breakout in RAY's price. The clean break above the triangle's resistance level has generated further optimism, signaling continued upside potential for RAY.
The next major obstacle for RAY is at the $0.240 level, historically known for strong resistance. It is essential to consider technical indicators and potential market swings, as widening Keltner Channel bands suggest the possibility of both price swings and breakout opportunities. Overbought conditions in the upper range of the bands may introduce a temporary dip.
Influx of Capital and Volatility
The Chaikin Money Flow (CMF) reflects a modest influx of capital into the RAY market, indicating buying pressure. A rising CMF rating may signal increased purchasing pressure and a potential market breakout.
The Relative Volatility Index (RVI) suggests that the RAY market is currently volatile, offering significant price volatility and trading opportunities. However, it's crucial to note that extreme volatility also brings increased risk.
The TRIX indicator shows favorable price momentum, indicating high purchasing pressure. However, a declining TRIX rating could indicate a potential reversal in RAY's price trend.
Memeinator Presale Success
In the world of meme coins, Memeinator stands out as a transformative force. Its presale has surpassed the $500,000 milestone in less than 48 hours, showcasing its commitment to reshaping the meme coin landscape.
Memeinator's Unique Features
What sets Memeinator apart is its innovative approach. It introduces an AI-driven game inspired by classic '90s action movies, attracting a growing community and offering enticing prizes such as the opportunity to travel to space with Virgin Galactic.
The Memeinator 'resistance' has garnered significant traction, with over 20,000 individuals joining the journey on Twitter and actively engaging in vibrant discussions within the Telegram and Discord communities.
Solid-Proof Audit and Utility
Memeinator has undergone a thorough audit by Solid Proof, a reputable German-based company specializing in evaluating crypto project protocols, smart contracts, and KYC assessments. This audit places Memeinator alongside notable projects like UNCX, Shopping.io, and ZyberSwap.
Memeinator's utility extends beyond its presale success. Its MMTR Tokenomics features a total supply of 1 billion tokens, with allocations for community engagement, marketing pools, and exchange liquidity provision. To maintain the token's price, a deflationary mechanism will be employed, including token burns as necessary.
Editor Notes: Uber Crypto News
In the world of cryptocurrencies, Raydium's unstoppable momentum and Memeinator's presale success have captured the attention of traders and investors. While the surge in RAY's price instills optimism, it's crucial to carefully consider technical indicators and potential market swings. Meanwhile, Memeinator's mission to reshape the meme coin landscape has gained significant community support and has undergone a rigorous audit, demonstrating its commitment to innovation. For more exciting news in the world of crypto, visit Uber Crypto News.