Maker (MKR) Price Surges as South Korea Expansion Push Gains Momentum
The Maker (MKR) price rally continues to gain traction as the network expands its presence in South Korea, one of the largest players in the cryptocurrency industry. On Thursday, the MKR token reached a high of $1,150, its highest level since August 16th. This represents a significant increase of over 17% from its lowest level in August.
The main driving force behind the MKR price rally is the developer's push into South Korea. In a statement released on August 29th, the developers expressed their eagerness to introduce SubDAO in the country. The SubDAO Genesis event is scheduled to take place on September 3rd in South Korea.
A subDAO is an innovative approach that enhances governance in a blockchain platform. It operates with an independent foundation and ownership structure but is connected to the parent DAO in its mission. The goal is to promote greater decentralization within the ecosystem.
In addition to its expansion efforts in South Korea, Maker is also co-sponsoring EthconKorea, a major event taking place in Seoul.
We are sponsoring @ethconkr with Spark Protocol.

Are you coding?

Discover our hackathon bounties and develop your expertise as you build on top of Maker SubDAOs and Spark Protocol. pic.twitter.com/o4H3dEwHUw

— Maker (@MakerDAO) August 29, 2023
The Maker price is also gaining momentum due to increasing demand for Spark Protocol. Data from Defi Llama shows that the DeFi protocol has witnessed a significant increase in its Total Value Locked (TVL), reaching over $681 million in recent months. Its highest TVL was $700 million.
Investors are attracted to Spark Protocol due to its higher yields compared to its competitors. This also explains the recent rise in the Dai market cap.
Maker Price Prediction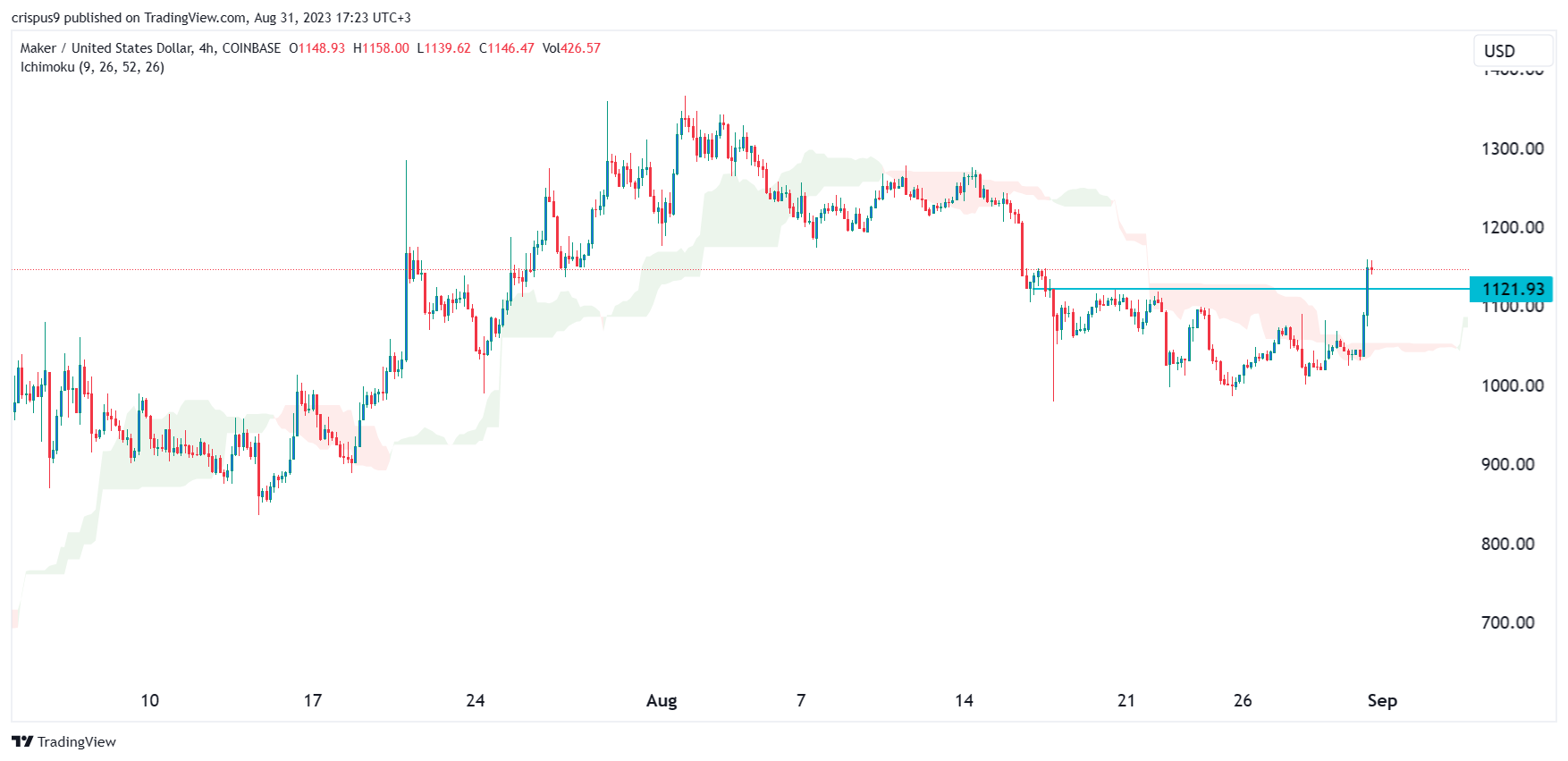 The 4-hour chart demonstrates a steady upward trend in the MKR price over the past few days. During this period, the coin successfully broke above the important resistance level at $1,121, which was the peak on August 22nd. Moreover, the coin has surpassed both the 25-period and 50-day moving averages.
The Maker price has also breached the Ichimoku cloud indicator, indicating a bullish outlook. The next key level to monitor is at $1,200, with a stop-loss for this trade set at $1,100.
How to Buy Maker
eToro: eToro offers a wide range of cryptocurrencies, including Bitcoin, XRP, and others. Additionally, users can connect with other users, learn from them, and even copy their trades.
OKX: OKX is a leading global cryptocurrency exchange that provides advanced financial services to traders worldwide, leveraging blockchain technology.
As the Maker (MKR) price continues to soar, it is evident that the network's expansion in South Korea is playing a significant role in driving its value. With increased demand for Spark Protocol, the outlook for MKR remains bullish. Investors looking to capitalize on this upward trend can consider platforms such as eToro and OKX to purchase Maker tokens.
Editor Notes: The Rise of MKR and the Crypto Industry
The recent surge in the Maker (MKR) price and the network's expansion in South Korea exemplify the growing interest and momentum in the cryptocurrency industry. As more countries and companies embrace blockchain technology and decentralized finance, tokens like MKR gain prominence as key players in the ecosystem.
With Maker's push into South Korea and its sponsorship of events like EthconKorea, it is evident that the project is actively working to expand its reach and influence globally. This bodes well for the future growth and adoption of MKR.
For the latest news and updates on the cryptocurrency industry, visit Uber Crypto News.