Maker (MKR) price recovers as Spark Protocol inflows increase
The price of Maker (MKR) cryptocurrency experienced a significant jump on Thursday as a result of the growing demand for the Dai stablecoin. The coin reached a high of $1,100, surpassing its previous low of $978 last Friday. This upward momentum coincided with the successful comeback of tech stocks following Nvidia's positive earnings report.
Dai demand surges
MakerDAO, a major player in the blockchain industry, currently holds a total value locked (TVL) of over $5.12 billion according to data from DeFi Llama. This makes it the third-largest DeFi player, trailing behind Lido DAO and AAVE.
MakerDAO is most notable for its Dai stablecoin, which ranks as the 12th-largest cryptocurrency and the third-largest stablecoin globally. Over the past few weeks, Dai's market capitalization has increased by more than $1 billion, offering strong support to MKR's token.
The success of Dai can be attributed to Spark Protocol, a rival to AAVE that was launched by MakerDAO a few months ago. Spark is a DeFi protocol that allows users to earn returns by depositing cryptocurrencies like ETH and Dai. Additionally, Spark enables users to borrow Dai against their collateral and perform coin swaps without slippage. Current data shows that depositors are earning returns of up to 8%. Similar to AAVE, Spark generates these funds by lending within the platform, which has driven its total value locked to over $578 million.
One of the main challenges that MakerDAO and other DeFi protocols face is the competition from high-interest rates generated by money market funds due to the relatively higher interest rates set by the Federal Reserve. Some funds are now offering returns as high as 6%.
Price forecast for Maker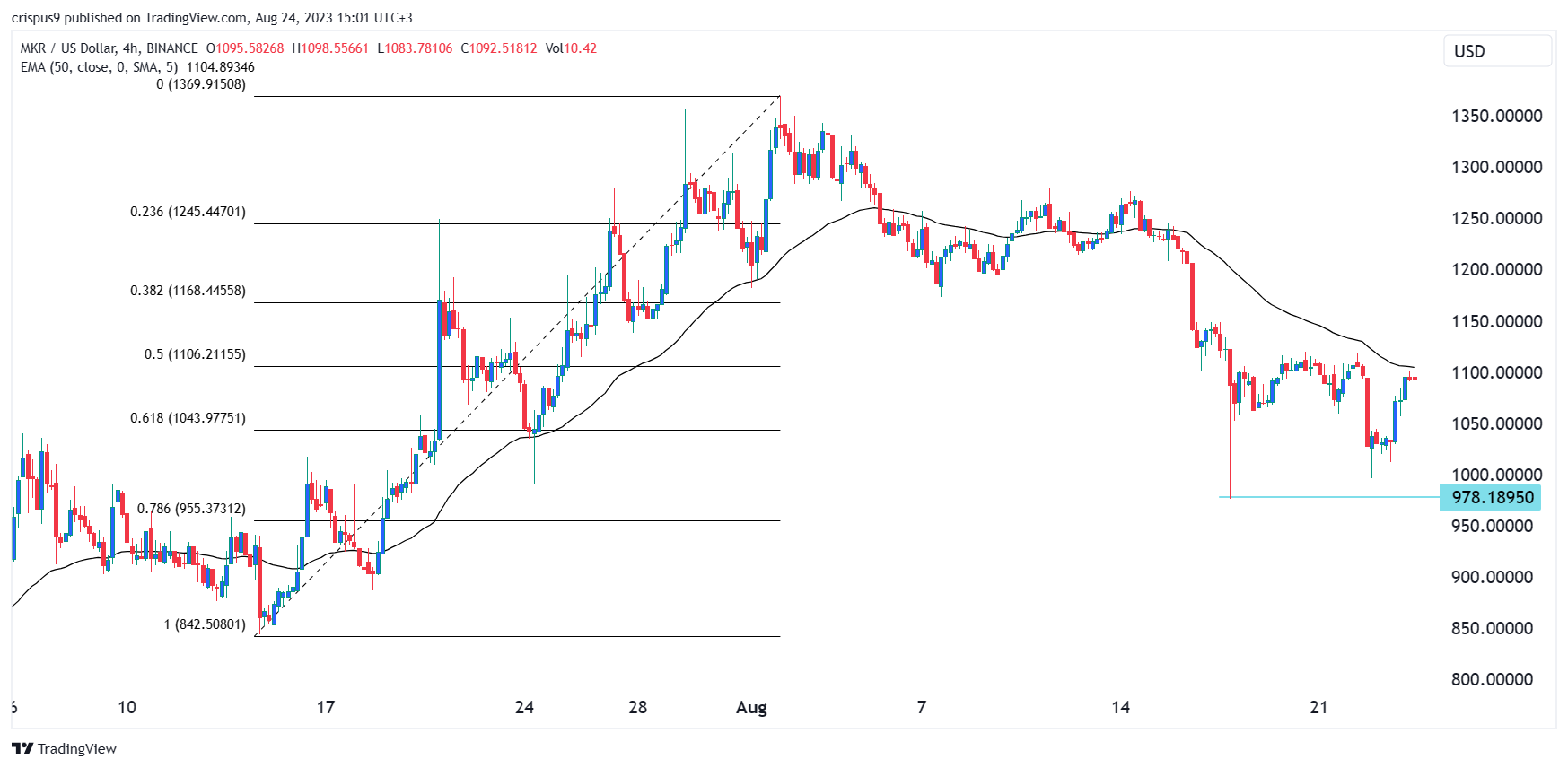 When analyzing the 4-hour chart, it becomes evident that the MKR price experienced a sharp drop last week amidst a general cryptocurrency market decline. It reached a critical support level at $978. Currently, the coin remains below the 50-day moving average and slightly below the 50% Fibonacci Retracement level.
Considering these factors, it is likely that the MKR price will continue to rise as buyers focus on the key resistance level at $1,150. However, if the price drops below the support level of $1,050, the bullish view will be invalidated.
How to buy Maker
eToro: eToro offers a wide range of cryptocurrencies, including Bitcoin (BTC) and XRP. Along with crypto/fiat and crypto/crypto pairs, eToro allows users to connect with and learn from other users, and even copy or get copied by them.
OKX: OKX is a leading cryptocurrency exchange that provides advanced financial services to traders worldwide through blockchain technology.
By choosing eToro or OKX, individuals can easily purchase Maker (MKR) and participate in the exciting opportunities presented by the crypto market.
Source Link: https://coinjournal.net/news/maker-mkr-price-regains-momentum-as-spark-protocol-inflows-rise/
Editor's Notes
In the rapidly evolving world of cryptocurrencies, it's crucial to stay informed and up to date with the latest news and trends. For comprehensive coverage and insights into the crypto market, we recommend visiting Uber Crypto News. Stay ahead of the game and make informed investment decisions with Uber Crypto News.