Litecoin's Price Declined by 50% in Less Than Three Months: Is Buying the Dip Worth the Risk?
The value of Litecoin (LTC/USD) has experienced a significant decline over the past few months, with its price decreasing by 50%. In July, Litecoin was trading at $115, but it dropped to $60 within just two months. This rapid decline may make it risky for investors to consider buying the dip despite a small head and shoulders pattern potentially forming.
The Impact of the Dollar's Rally on Litecoin's Price
During the summer, the US dollar witnessed an unprecedented rally, gaining strength against various currencies, including the Euro (EUR). This rally also affected the cryptocurrency market, pushing the prices of coins like Litecoin lower.
While Bitcoin managed to maintain its value close to its 2023 highs and moved within a horizontal consolidation range, Litecoin suffered a significant decline. Such volatility is not uncommon in the cryptocurrency space, but the speed at which Litecoin's price dropped due to the dollar's strength makes it a challenging decision for investors to consider buying the dip.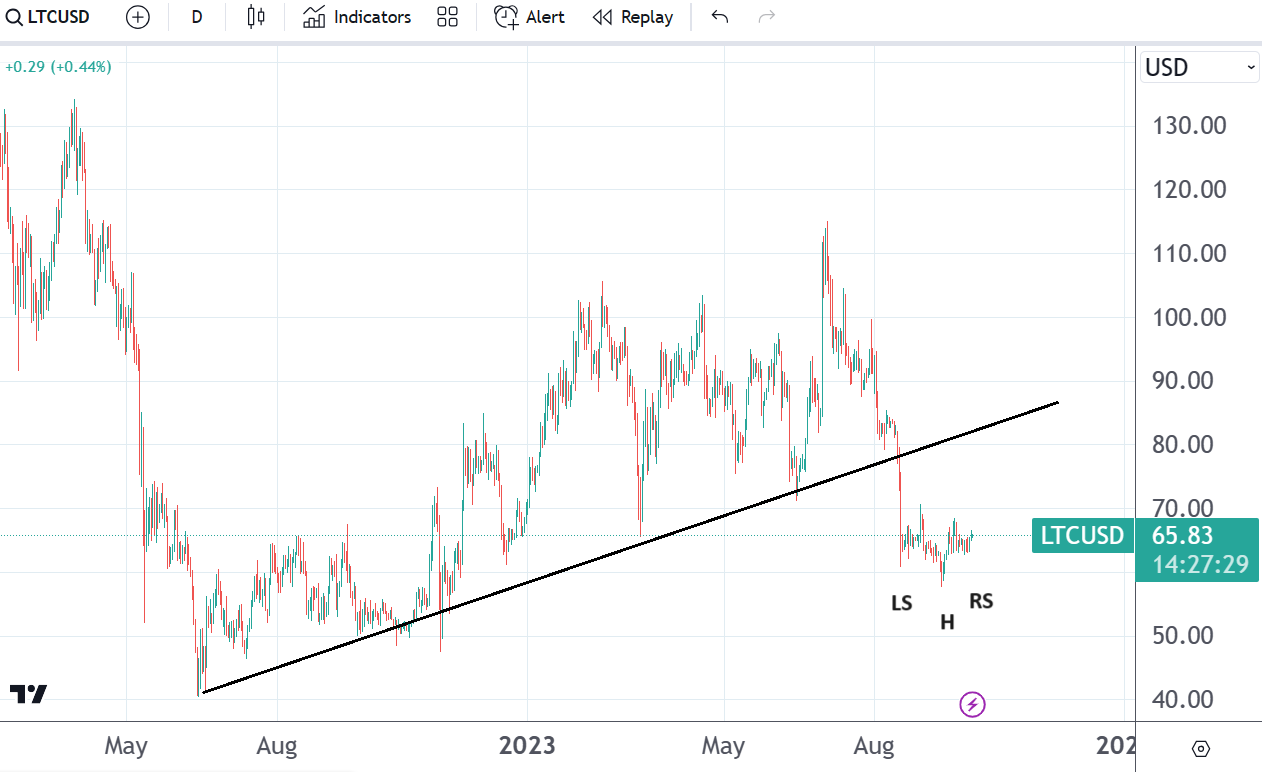 Potential Reversal: Litecoin's Inverse Head and Shoulders Pattern
When analyzing Litecoin's price chart, it is evident that an inverse head and shoulders pattern is potentially forming. This pattern is a bullish reversal signal that appears during a bearish trend.
The head of the pattern broke through the $60 level before bouncing, meeting the criteria for forming an inverse head and shoulders pattern. However, it remains questionable whether this formation alone is sufficient to reverse the powerful bearish trend experienced during the summer months.
At this stage, after nine months of trading, it is clear that Litecoin struggled to maintain a value above $100. Without the accumulation of enough bullish energy, the path of least resistance for Litecoin's price remains downwards.
Conclusion
The rapid decrease in Litecoin's price over the past few months, driven by the significant rally of the US dollar, raises concerns for investors considering buying the dip. Although a small inverse head and shoulders pattern is forming, it is uncertain whether it will be enough to reverse the prevailing bearish trend.
Litecoin's price decreased by 50% in less than three months.
The US dollar's rally impacted Litecoin and other cryptocurrencies.
Litecoin shows the potential formation of an inverse head and shoulders pattern.
However, it remains risky to buy the dip due to the strong bearish trend.
Investors should carefully assess market conditions and Litecoin's performance before deciding whether to take the risk of buying the dip.
Editor Notes: Invest in Cryptocurrencies with Uber Crypto News
For the latest news and analysis on cryptocurrencies, visit Uber Crypto News. Stay informed and make informed investment decisions.