FTX Denies BlockFi's Subordination Proposal, Citing Unavailable Assets and Legal Complexity
FTX and Three Arrows Capital (3AC) liquidators are opposing BlockFi's motion to recharacterize claims and include them in a liquidation schedule. FTX claims that BlockFi is attempting to lump their claims together without allowing room for dispute, which would involve assessing novel legal questions and a complicated factual record.
Some Claims Between BlockFi and FTX Involve Unavailable Assets
Certain claims between BlockFi and FTX are intertwined with assets that have yet to have their ownership status determined. To ensure a fair and reasonable adjudication of the FTX claims, BlockFi should pursue revised claims in a separate adversarial proceeding or through another plan, according to FTX's objection.
"This is necessary to ensure that the Court provides for a fair, appropriate, and reasonable adjudication of the FTX Claims."
The fate of some of these claims is tied to assets such as 56 million Robinhood shares that were purchased by former FTX CEO Sam Bankman-Fried using funds borrowed from Alameda Research. Alameda Research, FTX's primary market-maker, collapsed with the exchange last year.
Furthermore, Bankman-Fried extended a $250 million revolving credit line to BlockFi after several major crypto companies faced collapse in the previous year.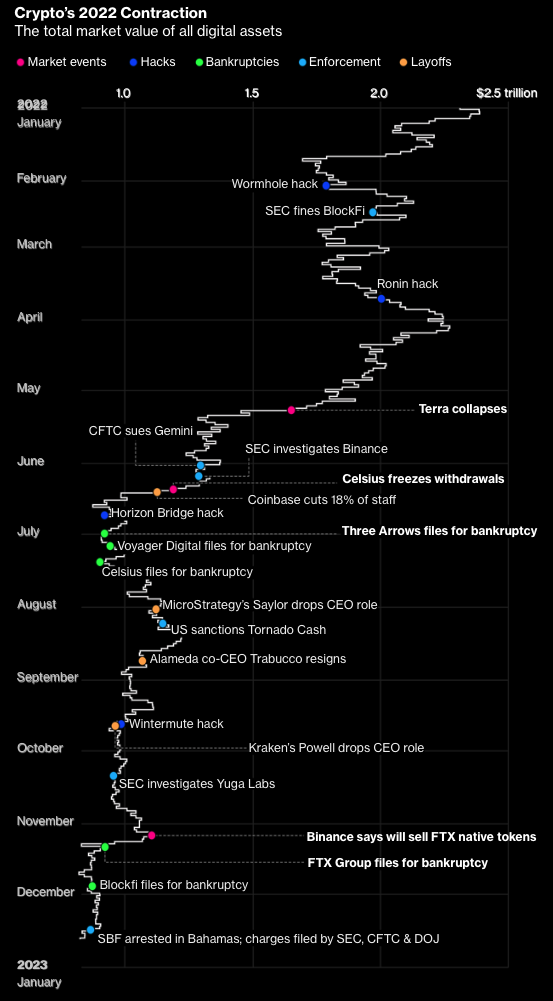 Timeline of Crypto Calamities in 2022 | Source: Bloomberg
BlockFi is facing another objection to its proposed liquidation plan, this time from bankrupt hedge fund Three Arrows Capital. The objection contends that the subordination of a $220 million loan into BlockFi's liquidation plan is not acceptable. Three Arrows Capital's liquidators argue that their U.S. assets are protected under Chapter 15 bankruptcy law.
In a separate filing, the U.S. Securities and Exchange Commission (SEC) has raised concerns about BlockFi's lack of specificity regarding the release of liability for pre-bankruptcy decisions. The SEC argues that BlockFi needs to provide detailed information to allow stakeholders to make informed decisions about the plan.
"The Debtors need to provide more detailed information about such broad releases to permit affected stakeholders to make an informed decision with respect to the Plan."
Last month, BlockFi's Unsecured Creditors' Committee accused the CEO and the debtor of benefiting insiders at the expense of creditors.
For more information on decentralized crypto lenders, you can visit Uber Crypto News.
Disclaimer
In adherence to the Trust Project guidelines, BeInCrypto is committed to unbiased, transparent reporting. This news article aims to provide accurate, timely information. However, readers are advised to verify facts independently and consult with a professional before making any decisions based on this content.
Editor Notes
FTX's opposition to BlockFi's subordination proposal highlights the complexity of the legal issues surrounding the claims and the fate of the assets involved. The ongoing disputes between these prominent players in the crypto industry shed light on the challenges of navigating bankruptcy proceedings and the need for clarity and transparency in asset ownership. It will be interesting to see how the court rules in this case and how it may impact future bankruptcy proceedings in the crypto space.