Why Ethereum Has More Short-Term Upside Potential
Ethereum (ETH) has experienced a significant recovery in its price in recent days, bringing optimism back to the cryptocurrency market. On Tuesday, ETH reached a high of $1,738, its highest level since August 17th. This surge marks an increase of more than 11% from its lowest point this month.
The Potential for an Ethereum ETF
One of the main factors driving the surge in Ethereum's price is the recent decision by a US court in favor of Grayscale. This decision stems from the SEC's rejection of Grayscale's attempt to convert its GBTC ETF into a spot ETF. The court ruled that the SEC should review and approve the ETF, raising hopes among investors that it will be approved alongside other requested ETFs from companies like Blackrock, Vanguard, and Invesco.
Grayscale's initial strategy is likely to convert its $5.2 billion Grayscale Ethereum Trust (ETHE) into a spot ETF. Operating as an ETF would eliminate the discount to Net Asset Value (NAV) that currently affects ETHE, as its market price is $11 while its holdings' value stands at $16.72.
Other companies, such as Blackrock and Invesco, may also apply for their own Ethereum ETFs. However, Ethereum faces a challenge due to its significant differences from Bitcoin. With its transition to a proof-of-stake coin through the merger with the Beacon Chain, Ethereum has become a distinct entity in the cryptocurrency market.
SEC Chairman Gary Gensler has argued that Ethereum, with its staking features, can be considered a financial security. As a result, brokers and exchanges that hold ETH for staking should provide additional disclosures to investors. Analysts believe the SEC has a stronger chance of convincing a court of Ethereum's security status compared to the XRP case.
Ethereum Price Prediction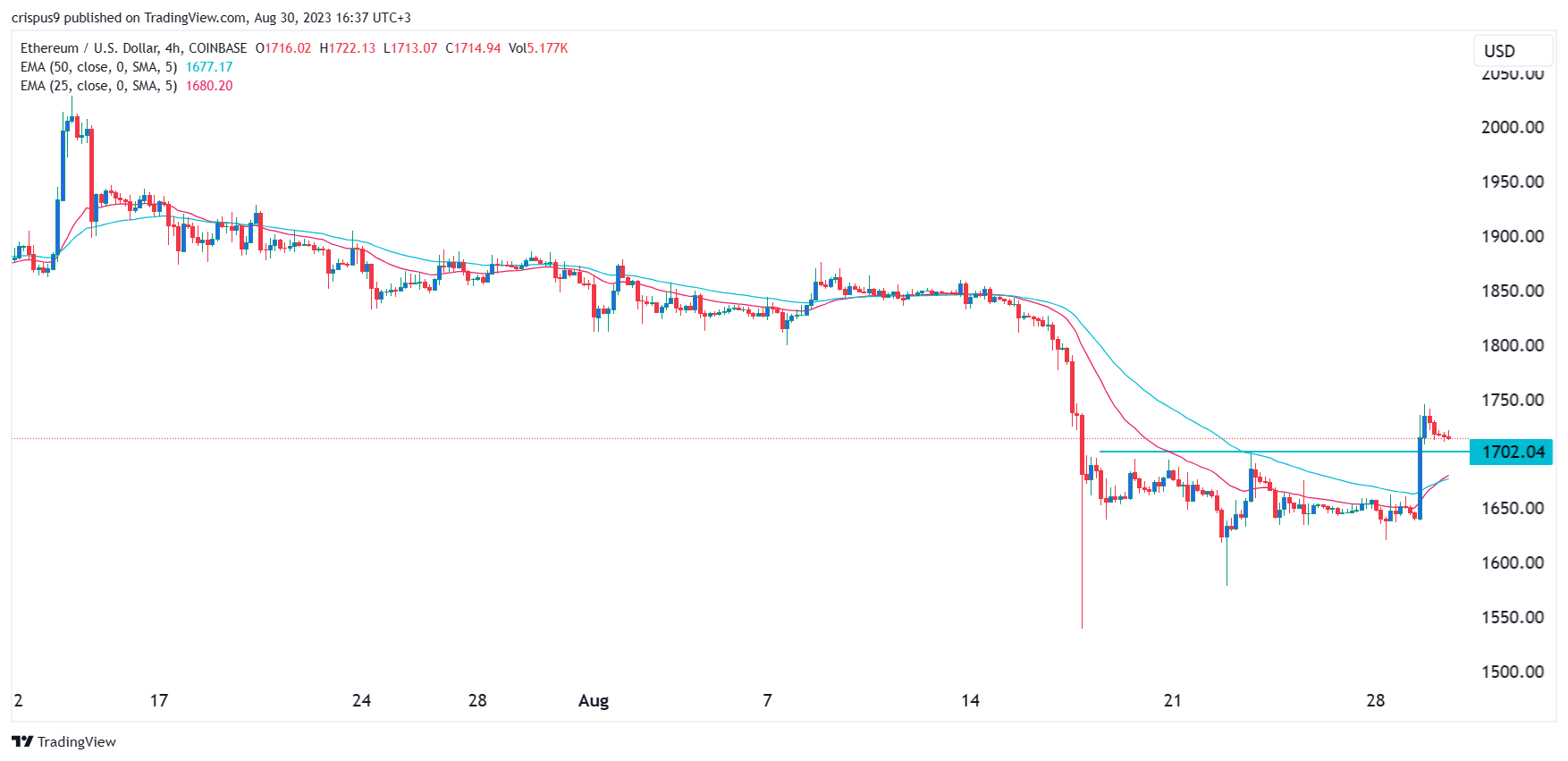 Looking at the 4-hour chart, we can see that ETH has broken out of a consolidation phase and is on a strong bullish trend. It has surpassed the crucial resistance level at $1,702, which was the highest level recorded on August 23rd. Additionally, the coin has moved above both the 25-day and 50-day moving averages.
A noteworthy observation is the formation of a small bullish flag pattern, indicating a bullish outlook for ETH. The next important level to watch is $1,800. However, if the price falls below the key support level of $1,702, it will invalidate the bullish view.
Where to Buy Ethereum
If you're interested in purchasing Ethereum, there are several platforms available:
eToro

eToro offers a wide range of cryptocurrencies, including Bitcoin, XRP, and others. It also allows users to connect with and learn from other users, as well as copy or get copied by them.
Public

Public is an investing platform that enables you to invest in stocks, ETFs, cryptocurrencies, and alternative assets like fine art and collectibles, all in one place.
Editor's Notes: Uber Crypto News
If you want to stay up-to-date with the latest news and trends in the crypto world, I highly recommend checking out Uber Crypto News. It's a reliable source that provides valuable insights and analysis about the cryptocurrency market. Stay informed and make educated decisions with the help of Uber Crypto News.