Crypto Price Forecast: Memeainator (MMTR), Chainlink, WorldCoin
Investors in the cryptocurrency market have had a lot to cheer about this week as prices continue to rise against the backdrop of a bearish stock and bond market. Bitcoin, in particular, has seen a significant surge, reaching over $27,000. The total market capitalization of cryptocurrencies has also surpassed $1.07 trillion. In this article, we will take a closer look at three top-performing cryptocurrencies: Memeainator (MMTR), Chainlink, and WorldCoin.
Memeainator (MMTR): A Breakout Star
Memeainator (MMTR) has gained attention in the crypto industry with its highly successful token sale, raising over $391k. The token is priced at $0.011 and is expected to continue rising as the token sale progresses. Investors can purchase it using ETH, USDT, and USDC.
Unlike many other meme coins, Memeainator aims to have genuine utility. The token will provide holders with access and perks as new products, such as the Memeainator Game and MemeScanner, are launched. The project also embraces artificial intelligence (AI) for marketing, leveraging the power of this rapidly growing technology to reach as many people as possible.
Memeainator is entering a market that has already created many successful meme coin investors. Examples of meme coins that have generated significant wealth include Shiba Inu, Dogecoin, and Pepe. For more information on Memeainator, you can read their white paper here and buy the token here.
WorldCoin: Expanding into Emerging Markets
WorldCoin's WLD token has experienced strong performance, reaching a high of $1.90, its highest level since August 10th. The token's rally is largely attributed to the overall bullish sentiment in the cryptocurrency market.
The project's developers have also announced their plans to expand into emerging markets. With over 2.32 million people already using the Orb device, primarily in developing and emerging markets, WorldCoin is gaining traction. It is also attracting interest in certain developed countries, particularly Portugal, where 1% of the population has signed up.
When analyzing the 4-hour chart, we can see that WorldCoin has formed a rising wedge pattern. This pattern is typically considered bearish in price action analysis, indicating a potential bearish breakout with the next key support level at $1.60.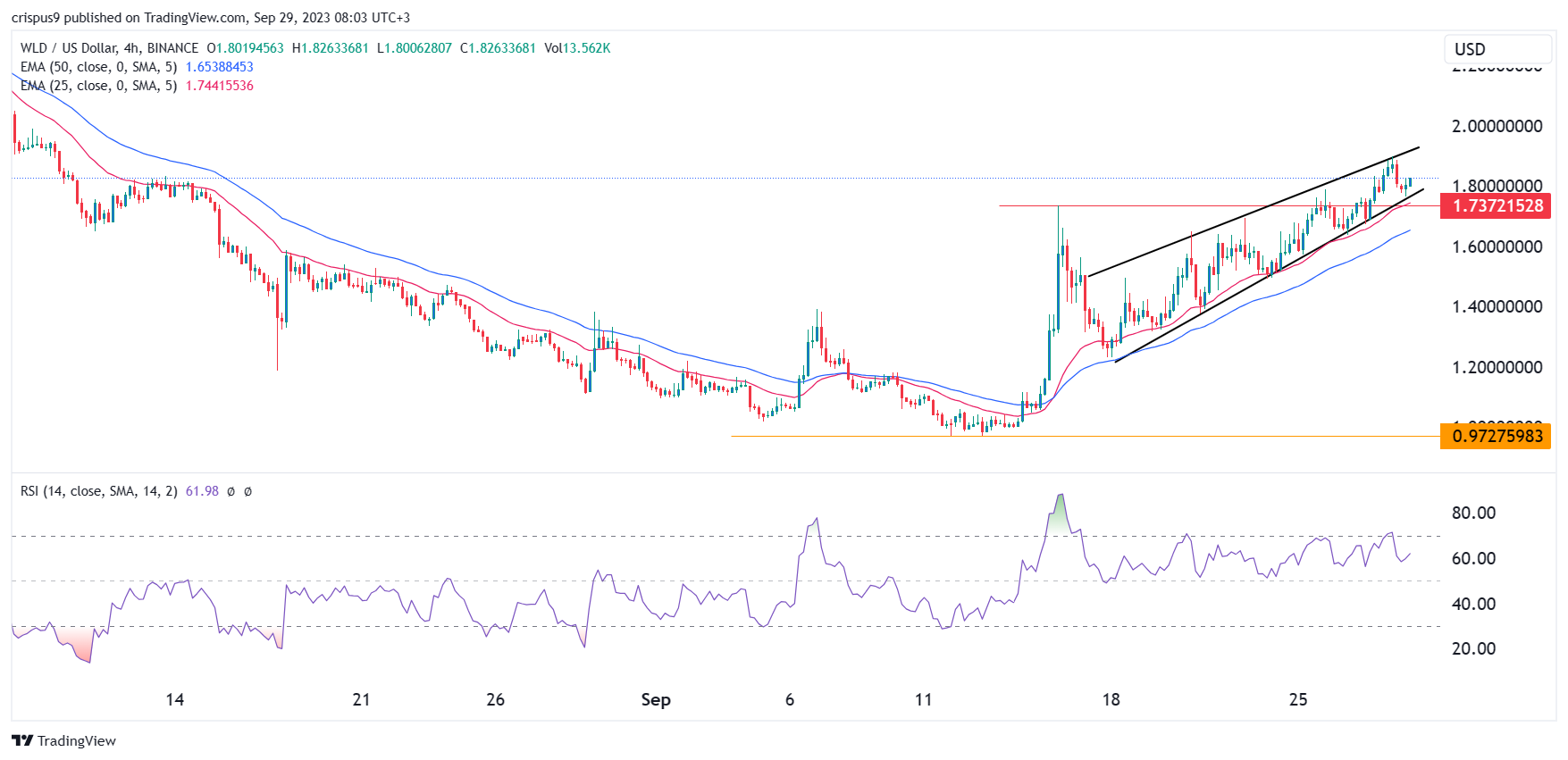 Chainlink: Riding the Tokenization Wave
Chainlink has also performed well, with its LINK token reaching a high of $8, its highest level since July. This surge of over 40% from the lowest level this month can be attributed to the growing demand for tokenization.
The token is well-supported by strong fundamentals and the 50-day and 25-day moving averages. It has also formed an ascending channel, while the Relative Strength Index (RSI) has indicated a downward movement. As a result, there is a possibility of a slight retreat in the LINK price as investors take profits, potentially dropping to the key support level at $7.50.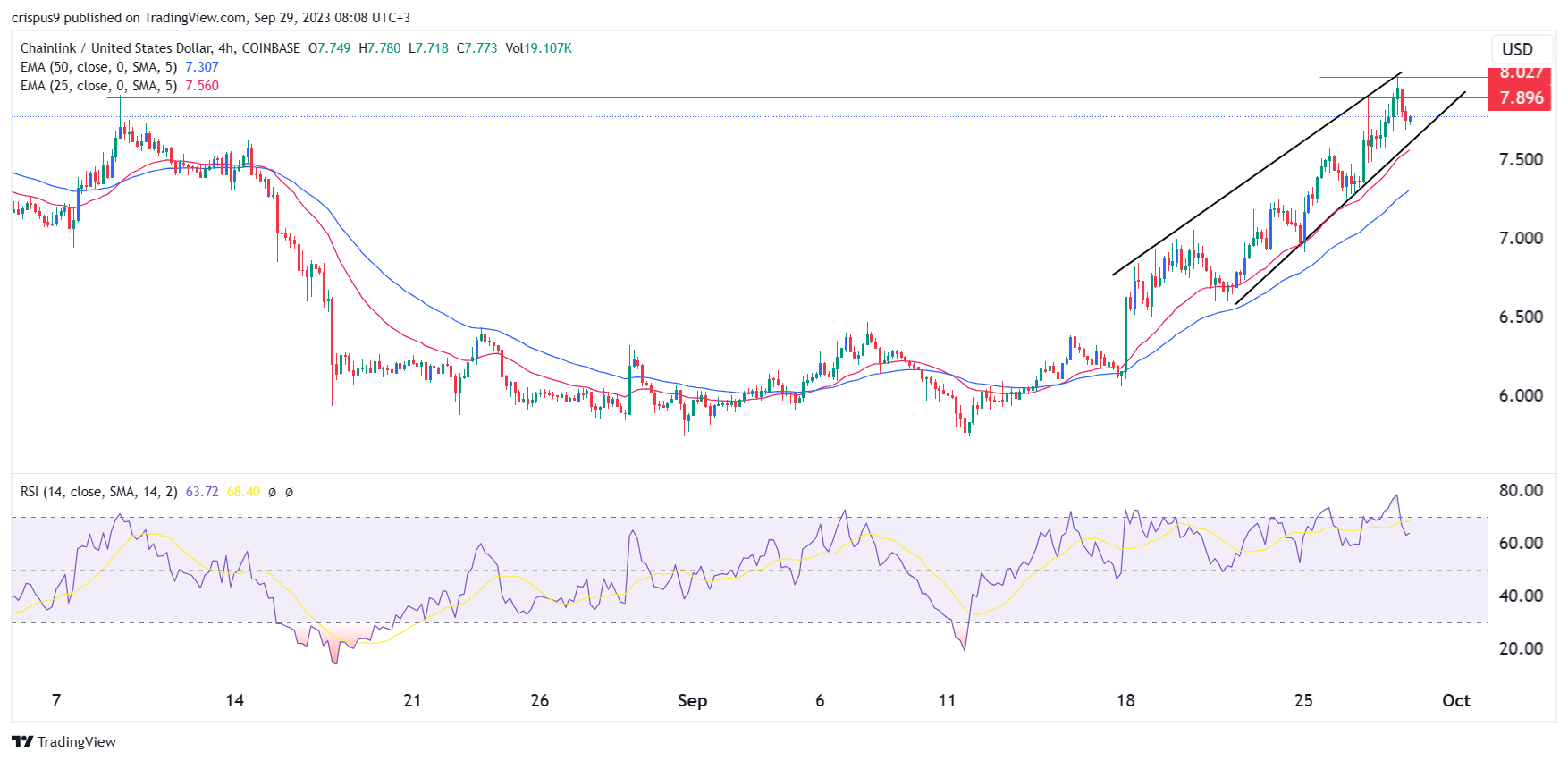 With these exciting developments in the crypto market, investors should closely monitor Memeainator (MMTR), WorldCoin, and Chainlink for potential investment opportunities. Stay tuned for further updates on these cryptocurrencies.
---
Editor Notes: Uber Crypto News
If you're interested in staying up to date with the latest news and insights on cryptocurrencies, check out Uber Crypto News. Our platform provides comprehensive coverage of the crypto market and offers valuable resources for both new and experienced investors. Don't miss out on the opportunity to stay informed and make educated investment decisions. Visit Uber Crypto News today!