Bulls Must Strengthen Above $20: Can Solana Take Advantage?
Solana (SOL) has recently traded above $20.00, reaching $20.50 after bouncing off $18.40 earlier this month. Now the question is, can the bulls capitalize on this positive sentiment and push Solana even higher?
Solana's price has reached a crucial technical level, with the 24-hour upside movement to $20.50 testing a 10-day high that also serves as an area of previous support and resistance. With a nearly 4% increase in the past 24 hours, Solana is outperforming all the top ten cryptocurrencies by market cap, except XRP.
Bitcoin, on the other hand, has fallen below $27k due to the latest SEC delays on decisions regarding multiple spot ETF applications, including BlackRock's. Ethereum, buoyed by the news of the listing of the Valkyrie ETH futures ETF, has also experienced a decline, despite whales positioning themselves for a potential upswing.
Solana's Outlook for Bulls
The uptick in SOL price today coincides with the efforts of SOL bulls to maintain a position above an ascending trendline support, which is anchored at the buffer zone around $9.60 in December 2022.
As shown on the daily chart below, Solana has bounced higher off the positive trendline, following this week's breakout from the downtrend line that originated from the peak of $32.40 in July 2023.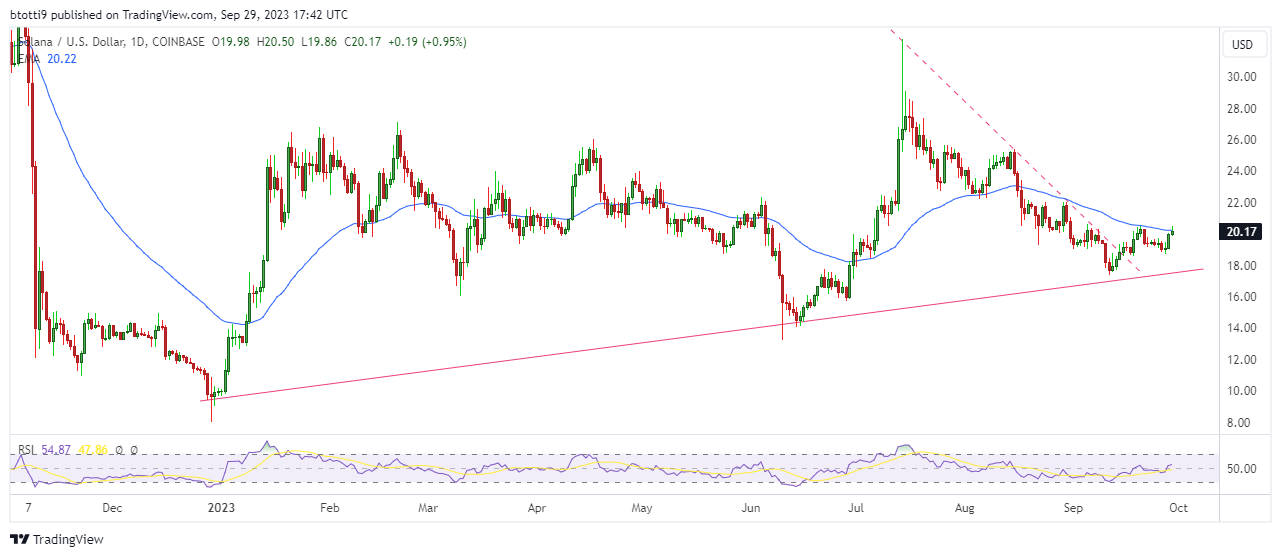 Solana price outlook on the daily chart. Source: TradingView
According to crypto trader Bluntz, there is a potential inverse Head & Shoulder pattern forming, with a neckline at $20.30 and the 50-day exponential moving average acting as the immediate supply zone at $20.22.
It is crucial for the bulls to hold above these levels in order to fulfill their short-term plans, which is supported by the daily Relative Strength Index (RSI) showing an upsloping view above the neutral mark.
On the flipside, if Solana price breaks below the $18.80 demand zone, it could potentially drop to around $17.60, with the possibility of finding support near $14.50.
In conclusion, Solana's price movement above $20.00 presents an opportunity for the bulls to take advantage and push the price higher. However, they must strengthen their position and maintain support above key levels in order to achieve their short-term goals.
Editor's Notes: Promote Uber Crypto News
If you want to stay updated with the latest news and developments in the world of cryptocurrency, visit Uber Crypto News. Our platform provides comprehensive coverage of the crypto market, bringing you the latest insights, analysis, and trends. Don't miss out on the exciting opportunities in the crypto space, stay informed with Uber Crypto News!