Prepare for Increased AVAX Dilution: Avalanche Price Forecast
The price of Avalanche (AVAX) is facing significant downward pressure leading up to the token unlock event scheduled for Friday. Currently, AVAX is trading at $10, only slightly above this week's low of $9.78. In fact, the token has experienced a decline of over 37% from its peak in July.
Unlocking AVAX Tokens
On Friday, Avalanche, an Ethereum alternative, will take center stage as developers unlock millions of AVAX tokens onto the market. Specifically, they will release over 9.7 million tokens worth more than $95 million, representing about 2% of the network.
Token unlocks are commonly seen in the crypto industry as part of a network's overall tokenomics. In the case of Avalanche, the vesting process will conclude in July 2030.
According to TokenUnlocks, there are currently 380 million AVAX tokens in circulation, with 339 million tokens locked. This brings the current market cap of unlocked AVAX tokens to $3.45 billion, while the diluted cap exceeds $7.2 billion. As a result, AVAX holders should anticipate further dilution in the coming years.
The challenge for Avalanche lies in its stagnant ecosystem growth. Data from DeFi Llama reveals that the Avalanche ecosystem has a total value locked (TVL) of over 151 million. At its peak, the market had over 362 million AVAX tokens in circulation.
In terms of dollar value, Avalanche's TVL currently stands at approximately $1 billion, with key dApps including Wonderland, AAVE, Benqi, GMX, and Trader Joe.
Avalanche Price Forecast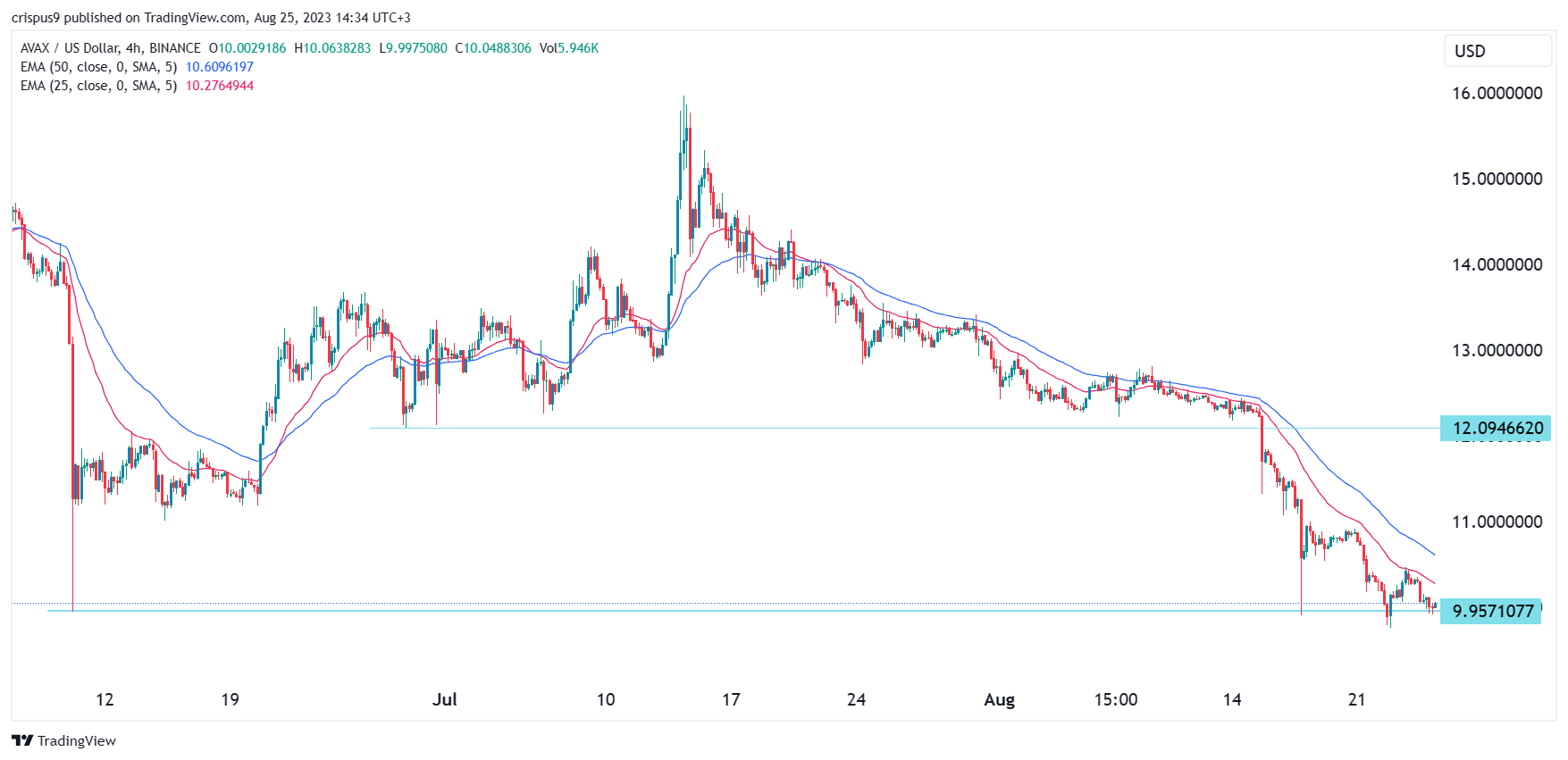 The 4-hour chart indicates that the AVAX price has been in a strong bearish trend over the past few months. Recently, it dipped below the crucial support level of $12.10, reaching its lowest point since June 18th.
Avalanche's price has also fallen below the 50-day moving average and is currently hovering near the lowest swing of June 10th. Both the Relative Strength Index (RSI) and the Stochastic Oscillator have entered the oversold territory.
As a result, the outlook for the AVAX token remains bearish, with the next psychological level of $8 as a critical support to monitor. A stop-loss for this trade should be set at $10.50.
How to Buy Avalanche
eToro
eToro offers a wide range of cryptocurrencies, including Bitcoin, XRP, and others, along with crypto-to-fiat and crypto-to-crypto pairs. eToro users can connect with, learn from, and even copy or get copied by other users.
Public
Public is an investing platform that allows you to invest in stocks, ETFs, cryptocurrencies, and alternative assets like fine art and collectibles—all in one place.
Editor Notes: Invest Wisely with Uber Crypto News
If you're interested in staying informed about the latest developments in the crypto market and making wise investment decisions, look no further than Uber Crypto News. With comprehensive coverage and expert insights, Uber Crypto News is your go-to source for all things crypto. Stay ahead of the curve and unlock the potential of the digital asset landscape with Uber Crypto News.