Bitcoin Surpasses $35k and Breaks Resistance: What It Means for Investors
Bitcoin investors are ecstatic as the cryptocurrency reached a new high for the year, surpassing $35k. This milestone comes after successfully breaking through the long-standing resistance at the $32k area.
While this is great news for Bitcoin bulls, it's important to note that Bitcoin's performance is diverging from traditional fiat currencies, specifically the US dollar.
"It may or may not be something to worry about. But if I were an investor in Bitcoin (which I'm not), I would worry. Here is why."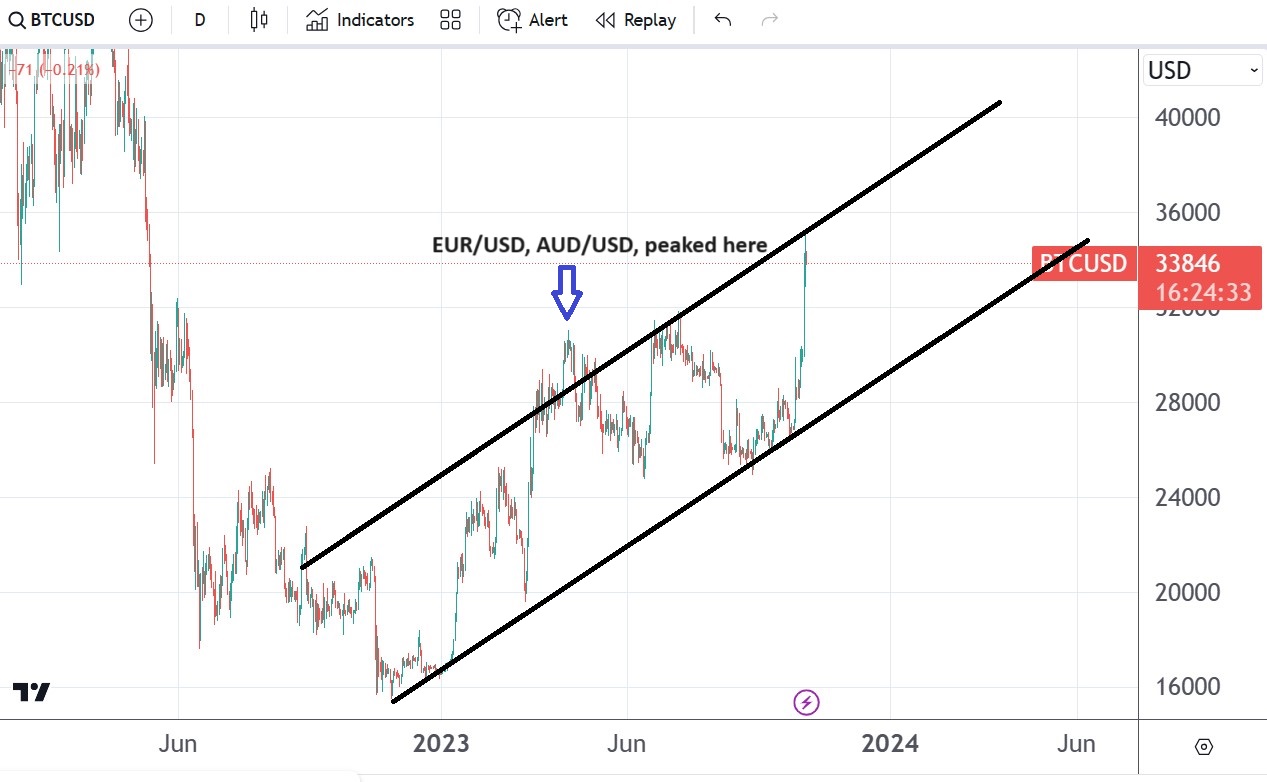 Bitcoin chart by TradingView
The Divergence Between Bitcoin and the US Dollar
Bitcoin's concern arises from the fact that the US dollar has been strengthening against other currencies since the first quarter of 2023. Notably, the EUR/USD and AUD/USD exchange rates reached their peaks in Q1 2023 and have been declining since then.
EUR/USD, for example, reached 1.12 in Q1 2023 but is now trading around 1.06. Similarly, AUD/USD has essentially erased all its gains from the lows in October 2022.
"Bitcoin is the last one standing against the dollar. While some may argue that this is expected because Bitcoin is not correlated with macro risks, I beg to differ."
Given that Bitcoin is part of many institutional portfolios, it does react to macroeconomic events. Therefore, the current rally would likely be reversed unless the strength of the US dollar weakens. Only if the dollar starts to decline would it make sense to celebrate a Bitcoin rally.
Until then, caution is advised for Bitcoin investors.
Editor's Notes: Uber Crypto News
If you want to stay up to date with the latest news and developments in the world of cryptocurrencies, be sure to check out Uber Crypto News. They provide comprehensive coverage of the crypto market, including Bitcoin, altcoins, blockchain technology, and more. Don't miss out on valuable insights and opportunities in the exciting world of crypto.