Pepe Crypto Price Surge: Beware of the Bull Trap
The price of Pepe cryptocurrency has experienced an impressive surge in the past few days. This rally is in line with the trend observed in the broader cryptocurrency market. However, investors should exercise caution and be aware of a potential bull trap.
Pepe's price has skyrocketed, reaching a high of $0.0000016, the highest level since May of this year. Overall, the meme coin has surged by over 85% from its lowest point this month.
Reasons Behind the Soaring Pepe Price
The surge in Pepe's price can be attributed to the increasing greed prevailing in the crypto market. As most cryptocurrencies experience significant gains, the crypto fear and greed index has risen to 60, placing it in the greed zone. Bitcoin has surpassed the crucial resistance level of $30,000, while a wave of positive sentiment has swept across the market.
Another contributing factor to Pepe's impressive performance is the traditional finance (TradFi) trends in the industry. For instance, Credit Agricole recently obtained a cryptocurrency custody license in France. This is noteworthy as Credit Agricole is the third-largest bank in Europe based on assets.
This announcement followed Deutsche Bank's application for custody services in Germany. Furthermore, prominent companies like Blackrock, WisdomTree, and Invesco have sought approval from the SEC for their spot Bitcoin ETFs.
Although these events are unrelated to altcoins like Pepe, they have helped alleviate the regulatory challenges experienced in the United States. Earlier, the SEC had filed significant charges against Coinbase and Binance, two leading firms in the industry.
Potential Bull Trap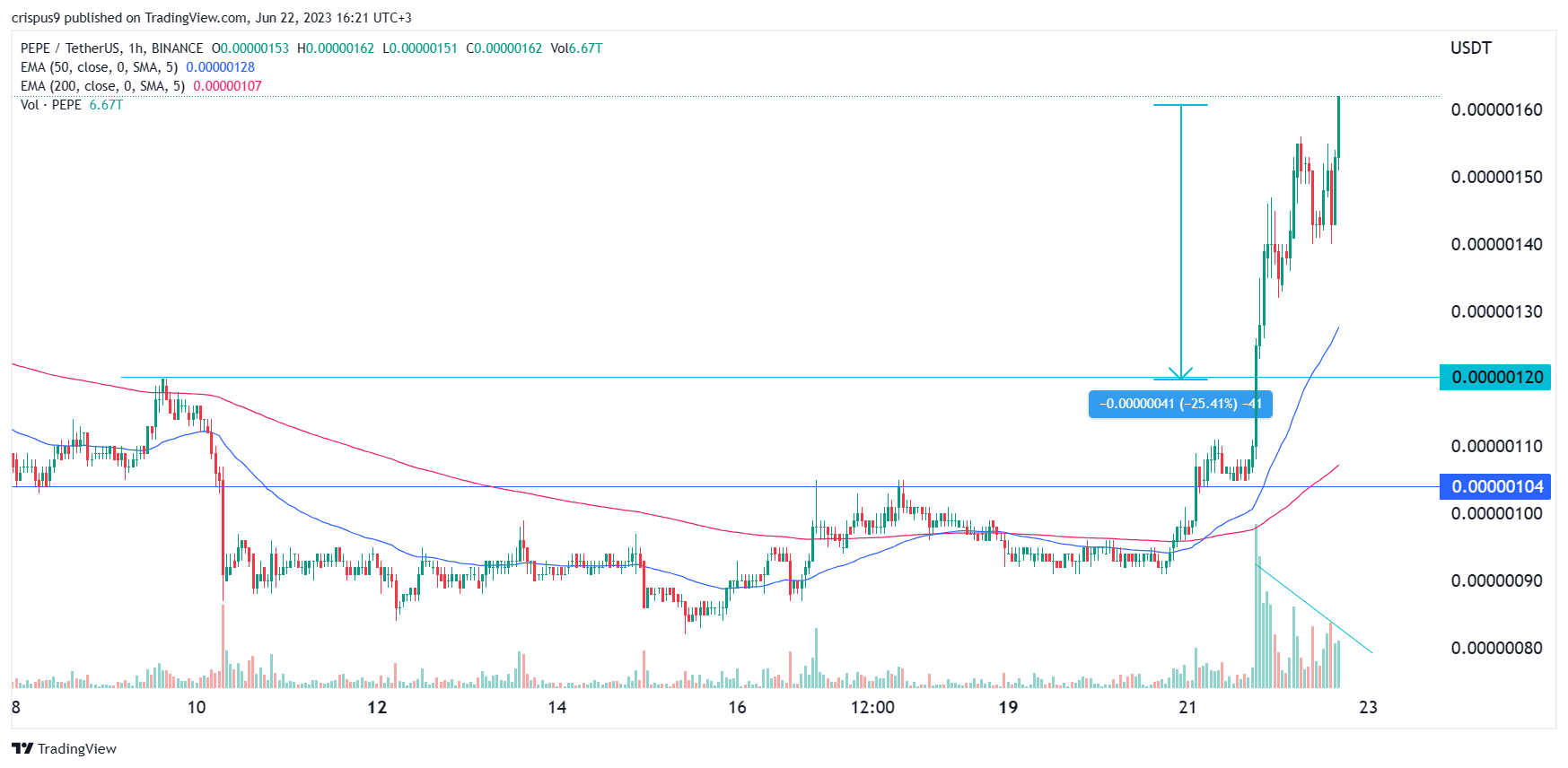 It's essential to be cautious as Pepe's price rise is influenced by the Fear of Missing Out (FOMO), often leading to significant losses for investors. Just look at the investors who bought shares of companies like GameStop, ContextLogic, and Bed Bath and Beyond; many of them ended up losing substantial amounts of money.
Considering this, it is likely that Pepe's price will retreat soon as investors begin to take profits. A divergence between volume and price is evident in the chart above, with volume declining after reaching its peak on Wednesday.
If this analysis holds true, Pepe may decline towards a key support level of $0.00000012, the highest point recorded on June 9th of this year. This reflects a potential 25% drop from the current price.
How to Buy Pepe
Editor Notes: A Cautionary Tale for Crypto Investors
As the crypto market continues its fascinating volatility, it's essential for investors to exercise caution and stay informed. While Pepe's recent price surge has caught the attention of many, it is crucial to be wary of potential bull traps that can lead to significant losses.
Educating yourself about market trends, conducting thorough research, and seeking diverse perspectives can help make more informed investment decisions. Remember, timing is crucial when entering and exiting positions, and profits should be taken strategically.
Stay updated with the latest news and analysis from the world of cryptocurrency by visiting Uber Crypto News. With a reliable source of information, you can navigate the crypto market with confidence and avoid falling into traps.
Invest wisely and stay informed!